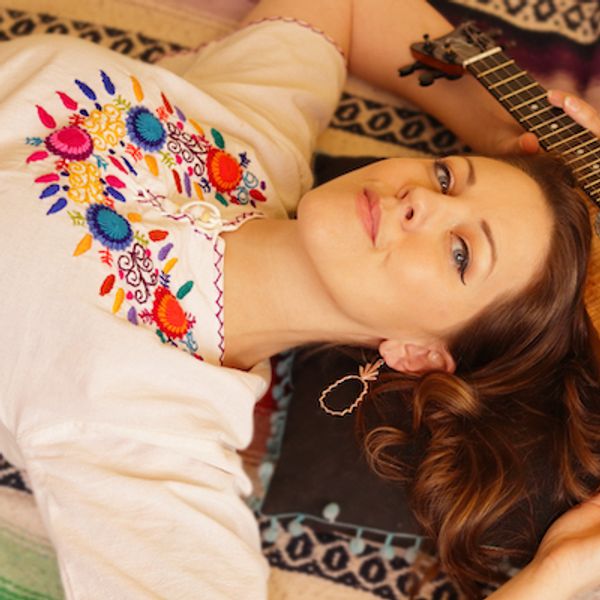 About Dani Joy
Dani Joy is an Oregon based singer/songwriter/instructor.  Her world influenced musical style is soothing and romantic, blending old time jazz with Bossa nova/exotica genres.
  She is most noted for her crooning alto vocals and tasteful ukulele fingerpicking &  accompaniment.
Soon after graduating from the Rhode Island School of Design (Illustration 2010), her Dad Stu Herreid gave her a ukulele, opening an unexplored world of jazz and endless possibilities on four simple strings. Upon the opening a her family music store in Roseville (The Strum Shop) Dani jumped head first into learning music, exploring variations of finger style techniques left over from her days of studying Classical Guitar.
Expressing her art through music, Dani has entranced audiences across the country, inviting them in with her velvet vocals and compassionate style of teaching. Her first fan-funded album was released in 2015 entitled "Let Me Introduce Myself" and features inventive takes on classic songs, along with a couple of originals, her first foray into song writing. Today she is diligently working on her next album of original songs, using events in her own journey as inspiration. Her new original song "Mama you said" speaks to the angst of youth in a comical, pseudo-biographical way, lamenting the parental promises of success in a world where hard work is the only route.
As songwriting and performing is her art, instructing is a strong passion. Dani has been teaching privately along with hosting workshops across California and Nevada since 2013. She has also been an ambassador for Northern California's "Ukes for Schools" program, teaching in schools in the Sacramento/Roseville districts alongside enthusiastic teachers. Her most recent project is leading a "Peewee Ukulele Orchestra" which will be featured at the GoldPan Ukulele Festival in Auburn (Aug 2017). For this child orchestra she had fun dissecting several compositions, working out parts based on each child's ability, and in the process teaching 9 children (ages 8-11 1/2) about song structures and performance.
Originally from Redding Ca, she now resides in Portland Or, touring as often as possible across the USA and internationally to venues and festivals across the globe. In 2020 she finished co-writing an album with Daniel Ho entitled Drop in my Flower (available for download on this website)